I don't know about you guys but I think this year has really flown by really quickly. I'm sick of all that school work and now that the summer time is coming, it's time to totally kick back and do all the things that I've been wanting to do. One thing I especially LOVE is reading manga. I think it's a great way to get lost in your imagination, relieve your stress, and just have fun! So how about reading these mangas over the summer?
1) Stepping on Roses Barefoot/Hadashi de Bara wo Fume by Rinko Ueda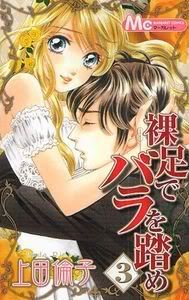 This manga starts off with a poor family with a girl named Sumi. She works day and night to feed her entire family but her brother keeps gambling it all away. One night a debt collector shows up and demands money or else he would sell all her little siblings into slavery. In a rush to make money, she runs out into the red light district, willing to anything she can. After a while, she starts to give up until she meets Soichiro, a rich guy and the only way he can get his inheritance money is if he gets married. He agrees to buy her and in the end she finds out that he paid her to marry him! The one catch here is that he will pay her any amount of money she wants but she is to never fall in love with him. I have to admit that this is one of the most intense story lines that I have ever read. I won't completely spoil it for those who are planning to read it but I will say that Soichiro and Sumi make a beautiful couple. However, there are certain things (or people) that just go a little too overboard sometimes and things are done that are just crazy and out of this world. The question is, is it enough to break them apart?
2) Mistress Fortune by Arina Tanemura
If you were a fan of Full Moon, then I assure you that you will like this. Although it's a one-shot, it had a really nice plot and I was left holding in my tears because I was reading at a public bookstore and it would have been a little weird if I was standing there crying by myself. Anyways, this is a book that revolves around Giniro and Kisaki. They are both agents with powers in a secret undercover company that works to capture creatures from space and keep them from attacking Earth. The thing is, agents aren't allowed to share personal information with each other. That's Kisaki's problem. She's in love with Giniro and she knows it in her heart but how will she be able to tell him? If they ever do get together, do they stand a chance together? Or does fate just doesn't seem to be going too well for the two. Now, that's for you guys to find out.
3) Sakura Hime: The Legend of Princess Sakura by Arina Tanemura
I think this could actually be one of Tanemura's best works! I loved Full Moon and Gentlemen's Alliance with all my heart and the moment I started to read it, I totally loved it. I especially loved all the catches that were in the book. It's just absolutely surprising and it's totally stuff that you would never predict to happen. It starts out with a 14 year old Princess Sakura, who has been engaged to Prince Oura since she was born. One night, she does what she was forbidden to do and that is look up at the full moon. The moment her eyes leave the moon, a man-eating monster appears and tries to devour her, while referring to her as Princess Kaguya. It turns out that that is her grandmother and that Sakura has developed her ancestor's powers. She does kill the creature, but the catch is that one day she herself will turn into a monster and kill her family. Everything gets chaotic and Sakura is to quickly escape away now that everyone has turned on her. What will she do when she gets seriously injured and her village is under attack? Sakura is the only one with the bloodline that can stop those creatures but will she able to get back in time?
4) Arisa by Natsumi Ando
Arisa and Tsubasa are twin sisters and they finally meet with each other after three years since their parents' divorce. The two decide to switch places one day because Tsubasa envies her sister's popularity compared to her life and Arisa agrees. However, while Tsubasa is in Arisa's shoes, Arisa tries to commit suicide by jumping out the window with a mysterious note. The bushes did save her life but she still falls into a coma. Due to this incident, Tsubasa stays in her sister's place and tries to find out the reason why her sister decided to jump off the building and who was responsible for that note. I have to say, this is one of the most complex mangas that I have ever read. I think if you skipped even one little chapter, you'd totally get confused so make sure you stick around!
5) Bride of the Water God by Yun Mi-Kyung
There is a village that lies deep in an area and that specific area has been going through a long period of drought. In hopes of getting rain, the village decides to sacrifice the most beautiful girl to please the water god, Habeak. Soah was chosen and before getting there, she almost gets killed by a monster. After getting rescued, she now has to live in a whole new world filled with sneaky gods and chaotic situations. Everything is just so complex and she even falls in love with a man named Mui! What she doesn't know is… Mui is Habeak's true form at night! I actually started this series in the school year and I think it really captures my interest. The best thing about it is the art. Everything is so perfectly detailed and it just amazes me how well it's drawn.
6) Pig Bride by Huh Kook-hwa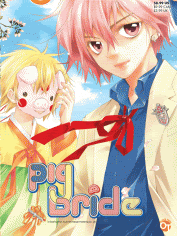 Si-Joon is sent away to a summer camp by his father for being a naughty kid but he runs away. Poor dude gets lost but is saved when he finds a house in the middle of nowhere. The woman inside tells him that he is part of a prophecy and that he must marry Mu-Yeon on his 16th birthday. On that day, Mu-Yeon and her bodyguard, Mu-Hwa track him down and if Si-Joon doesn't marry her, his life will end before the year ends. The thing is, Mu-Yeon is a pig bride and she always wears a pig mask on her face, never revealing it to the curious Si-Joon. Anyone curious about how she looks? Check it out yourself!
7) PHD: Phantasy Degree by Son HeeJoon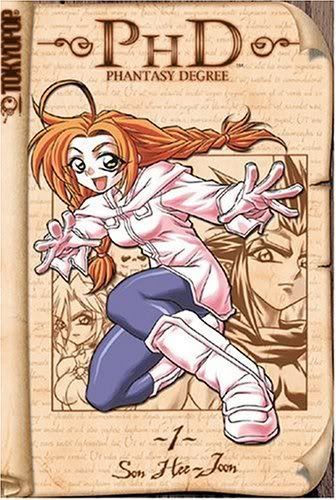 Meet Sang. She's a spunky and witty girl who goes in search of the Demon School Hades. On her way, she runs into some monsters from that school who just happen to be ditching class. Instead of eating her, she convinces one of them to bite her and turn her into a monster so she can enter the school. The school was soon destroyed afterward due to the work of the Madosa Guild so Sang goes in search for Satan's Rings to destroy the Guild. Along the way, she meets Chun-Lang who has a ring and the power to change genders. The two work together but unfortunately, Sang loses her memory! Trust me when I say it's a lot more intense than the way I put it. Everything is really funny and I just love reading the scenes over and over again. However, this manga is a really old series and the thing is it's still ongoing. The bad part is that it only has 10 volumes out and the last volume was published in 2005. Let's hope the author publishes soon!
8) Otomen by Aya Kanno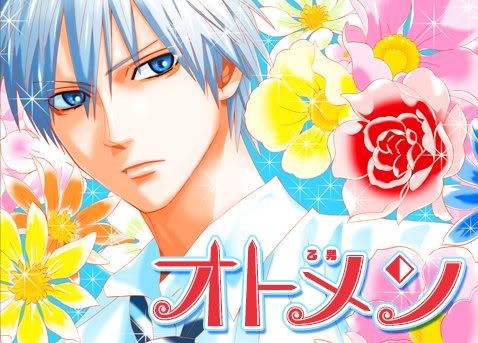 Asuka Masamune is the coolest, manliest guy in his whole school. He excels in judo and karate and is even the captain of the kendo team. Despite everything, Asuka has a teeny, tiny secret. Asuka really loves sweets, cute things, cooking, shōjo manga and sewing. He hides this part of his life from everyone else until he meets a girl named Ryo, the daughter of a martial artist and heir to his dojo. He falls in love with her and it's really cute watching the two of them together, especially with how naive they both are. Hopefully, with the help of his friend, Juta, they will end up together in the future. Juta is actually my favorite character. He's really funny and I love his secret persona. What secret persona am I talking about? Read to find out yourself.
9) Maid-Sama by Hiro Fujiwara
Seika High used to be a big and wild all-boys school. One day, the school becomes a co-ed school and the girls attend in fear. However, with the help of the student council president Misaki, she takes it into her own hands to change the school for the better and make it a better environment for females. Therefore, she has gained a reputation among all the guys as a tough dictator and hope for the teachers and girls. Despite everything, Misaki has a secret job that would really ruin her reputation. She works part-time at a maid cafe to support her poor family. Bad thing is, one day a popular boy, Takumi Usui goes into the cafe and discovers her working there! How does she handle that problem? I guess you would have to read.
10) Pet Shop of Horrors: Tokyo by Matsuri Akino
For those of you who like reading hardcore mystery stories, these series are the one for you. It's absolutely mind-blowing to see the result of each chapter and even though I hate horror movies, I love these horror mangas. If you liked Godchild, then I assure you, this book is like your best friend. In the first series of this book, Pet Shop of Horrors, it ends with Count D moving away and having an actual pet shop replace his store. In the Tokyo version, Count D has opened his pet shop again, this time in Tokyo's Shinjuku! For those who haven't read Petshop of Horrors, Count D's Pet Shop is a place where one can find animals from the most ordinary housepets to savage predators and mystical beasts that should belong only in legends. Customers often find that their new pets change their lives more than they expect, fulfilling their dreams, or realizing their nightmares. In the Tokyo version, Count D is basically back with more and more mysteries and I promise you that they are all addicting to read.

Which manga appeals to you the most?